June 20, 1999
The good news: Version 4.0 is in final release! Download it now!
Hey everyone...I realize that seven months is a really long time to be out of touch, and to leave something in a somewhat unstable public beta. Unfortunately for Patch Commander (but fortunately for me), I've been really busy with my real work, and I just haven't had any hours to spare for the freeware. Anyway, I've done my best to tie up the loose ends.
One of the main things that's slowed me down is that I've been waiting for people to put up Patch Repositories and let me know about them so I can include them in the final release. Unfortunately (once again), I've received exactly 5 -- count 'em, 5 -- submissions, and of those, only one (the one belonging to Clan 435) has been correctly formatted. You can still add to the repository list after the software is installed, though, so I'm releasing it as-is, and hopefully there will be more repositories to add later on.
The main bug report I received on version 4.0 has to do with Access Violation errors. There are two different reasons these errors were occuring. One is that there are certain video cards (most of them made by STB) that don't work well with Delphi's ImageList component. The compiler's been updated with a workaround for this type of error, so it should just go away. The other reason is that the Internet Explorer-like navigation controls I'm using require version 4.72 of Microsoft's Common Control library (COMCTL32.DLL). If yours is older, Patch Commander will crash. The solution is to download the update from Microsoft and install it.
The bad news: I've found that I really can't keep up with all of the bug tracking and email support that this program has required. If any serious bugs crop up, or a large number of people find that they just can't get Patch Commander to work, I'll try to issue an update that addresses these issues. As far as minor issues and new features are concerned, however, I have to say that I'm ceasing development. A few people have asked whether they can have the source code so they can take over the project, and the answer to that has to be no. There's quite a bit of proprietary code in Patch Commander that belongs to my employer -- stuff that I created, and have every right to use, but that I don't have the right to distribute to others in source code form.
Thanks to everyone who has supported this project, and continue to make the Star Wars gaming community what it is.
November 13, 1998
Version 4.0 is in Public Beta! You can download it now, but since the documentation isn't ready yet, please read the information below to get a handle on the new features.
November 11, 1998
It had to happen. After almost a year as a homeless victim of the email-it-to-the-webmasters distribution model, Jedi Knight Patch Commander finally has a permanent home on the web. I know, I know...It's about time. Actually, Aristotle gave me this space a couple months ago, but I've been too busy to actually make use of it.
At the moment, this site contains Version 3.5 of the Patch Commander Documentation, Frequently Asked Questions, and, of course, the Patch Commander program itself.
Sneak Preview of Version 4.0
Version 4.0 has been in Beta for a while now, and is just about ready to release. The most exciting new feature is the Patch Repository, which makes downloading and installing patches as easy as running them! Each supported game (Jedi Knight and Mysteries of the Sith ) has a list of repository locations associated with it. When you open the repository window and choose a repository (see Screen Shot below), the sortable list of available patches is displayed. Just click on the patches you want to download and click the install button (shown), or simply drag them into the main Patch Commander window. The patches will be downloaded, unzipped (if necessary), and installed automatically!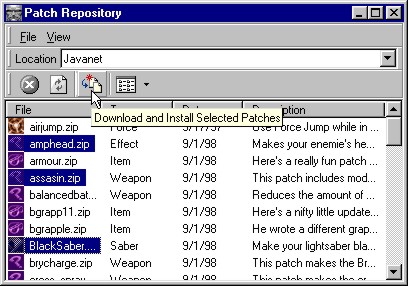 In order for this to work, of course, someone's going to have to maintain the list of available patches. If you currently operate/maintain a site (or plan to) which includes lists of patches, and you're willing to make a few design modifications to accommodate the Patch Commander repository format, please drop me a line! Any sites which are up, current, and correctly formatted will be pre-listed in the location bar when Patch Commander 4.0 is released. If you miss the release date, don't worry -- users will be able to edit the location list manually to add new sites.
Other new features in Version 4.0 include:
Automatic detection and installation of levels and episodes to the
Episodes directory
Automatic unzipping of zipped patches
Drag and Drop support for GOB files, ZIP files, URL files, Explorer
shortcuts, and Internet Explorer links
New Explorer-style buttons and menus